Fall Fun On The Farm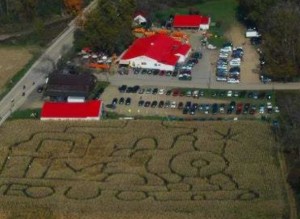 Our corn maze now includes a trip though the SPINNING BARN.
A Challenging Corn Maze…
The Szalay family invites you, your family and friends to experience the farm in the fall. We have a decorated three acre corn maze that is a bit challenging. Find all eight wooden pumpkins and your way out of the maze. Our corn maze takes approximately 30 minutes to walk through and it will give you a chance to test your navigational skills. Don't fret; we will give you a map (cheat sheet) of the maze. Our maze is theme designed from ghosts & goblins to dinosaurs & pirates with an aerial photo for you to see. Don't forget your camera; there are plenty of photo opportunities. This will provide your family and friends with memories to last a life time.
When does it open?
The corn maze is open September 16th to October 31st. It is open everyday from 10 am until 7 pm.
Admission
Admission is $6 for the maze and a trip through the Spinning Barn — Except kids 3 and under are FREE
Other Fall Things…
Pumpkins of every shape and size, Gourds, Indian Corn, Corn Stalks, Straw Bales, Critter Corn, Fresh Chestnuts, Local Honey, Maple Syrup, Home Grown Apples, Fresh Pressed Cider and Much More……